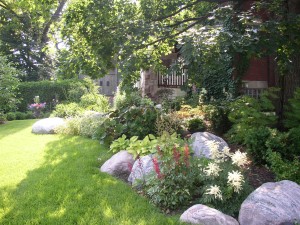 Plantings for shady areas can be problematic, but D.A Gracey has this down to a fine art and we truly enjoy the subtleness and intricate nature of a shade garden.  A garden in full sun offers many choices in the variety of plants that can be used, as well as the array of colours and blooms that are available.  However, a shade garden is a very different proposition.  Many times there is a differing amount of light available to the plants, depending on the time of day or the season.  In this case it is important to choose plant material that will tolerate a partial shade conditions, as well as full shade.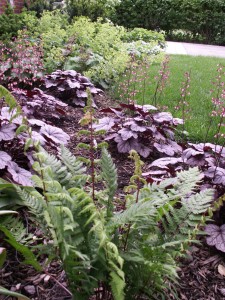 Shade plants tend to bloom early in the spring, and the colours are much softer and more subtle than the colours available in full sun plants.  Therefore it becomes very important to have the foliage of the plants add interest to the garden.  Variegated leaves in white/green or gold/green can lighten up the darkest corners of the garden.  Burgundy or blue leaves add focal points and contrast.  As well as the colours of the foliage; the size and texture of the leaves also adds depth to the planting beds.  Contrasting large leaves and small, coarse texture next to delicate texture will improve the appearance of the shade garden.
As well as these details, it is important to ensure that basic design  principles are followed in the shady garden.  An overhead canopy layer of trees, an intermediate layer of shrubs, as well as a lower level of perennial plantings and low growing shrubs are all necessary.  Winter interest must also be considered, which means inclusion of evergreens as an element to the shade garden.  As well, plants that have some outstanding winter characteristic such as coloured bark or seed pods that persist all winter should be an element of the shade garden.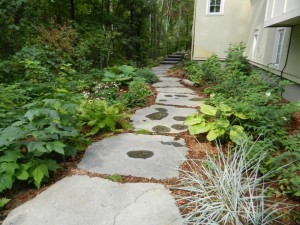 Add all these elements into the design mix, toss in a sculptural or architectural element, a bench to sit on and enjoy the view, and the shady garden can be a highlight of any residential landscape.