Front Yard Landscaping – The Destination That Says "Welcome Home"!
Much emphasis is placed on first impressions in life.  Shouldn't the first impression of your home be just as strong and positive?  Front yard landscaping is the first step towards making sure your home stands out as being welcoming, beautiful, and valuable.
The front yard and entrance serves to set your home apart from others. Quality front yard landscaping allows your home to shine brightly in your neighbourhood and really be an attention-grabber.  Each portion of the residential landscape has a different function for a family and the landscaping for each area should really compliment that function.  While backyard spaces are often used for casual entertaining and family relaxation, the front yard presents an opportunity for the homeowner to express their personality and taste.
Options for front yard landscaping are exciting and nearly endless. Many people opt for a more formal look at the entrance to their home; with wide and welcoming natural stone walkways, and colourful plantings behind boxwood borders to the planting beds.  Decorative stone walls, sculpture, water features, specimen trees and many more options allow home owners to really customize their front yard's look.  While selecting from the many choices available for a landscaping project could seem intimidating, an experienced and professional landscaping company can simplify the process, and allow the homeowner to concentrate on and enjoy the creative process.
Go From Simple to Sophisticated With An Inspiring Landscape.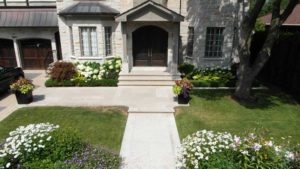 A front yard is the perfect space for many captivating elements which can quickly change a boring front yard into a masterpiece.  Fountains can add soothing sounds and elegance to a front entry.  Custom paving stones or natural stone walkways combined with accent plantings can transform an unexciting entryway into an adventure.  Even driveways can be reinvented with the addition of decorative stone borders, and the layout can be altered to ensure that parking is easier and safer.
Speaking of ease, why not spend more time enjoying and less time working in your yard. An uninviting front yard might be made more welcoming by the addition of terraces, or combinations of garden and lawn for ease of care.  As landscape design professionals, we can also choose plants or flowers which are easy to keep and maintain, and yet provide lots of colour and beauty.
Some of the most stunning landscaping features are surprisingly easy to maintain.  In fact, landscaping the front yard can reduce chores.  For example adding an in-ground sprinkler system eliminates the need for hand watering, while other landscaping styles remove the need for mowing a lawn.
A Home's Front Yard Landscaping Has Been Shown To Increase A Home's Value
Most importantly, your yard's landscape is a great investment in your home's value.  A well-planned and beautifully designed front yard not only gives immediate beautification to your home but also adds instant curb appeal value should you ever decide to sell.  But – why sell when returning to your gorgeous front yard after a hard day of work is such a pleasure?
D.A Gracey and Associates is a multi award-winning landscaping company, whose work is often featured in mainstream magazines. They can transform your yard into a conversation piece. Landscape architects, landscape designers, certified horticulturalists, carpenters, stonemasons and landscape construction crews can seamlessly personalize and accentuate your front yard to be welcoming and elegant, while enhancing the style of your home. By performing all the work in-house; we offer seamless communication throughout the overall project, between the landscape architects and designers, staff, affiliated tradesmen, suppliers, and the clients.
If you would like to speak with one of our creative designers about a front yard landscaping transformation, to show your neighbours that you are proud of your home and community, then call us at 905.761.9490 to see how we can help make your yard the stunning showpiece of your neighbourhood.