November often makes us think of cold grey days, but it doesn't have to be that way. If you plant your landscape with a wide range of plant material you can have colour and interest throughout the year. There are still many plants in the garden providing colour….even in November. Here i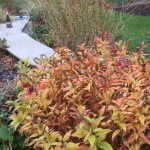 s a picture from my garden showing Gooseneck Loosestrife – Lysimachia clethroides. Although some may say this plant can be invasive because it spreads by underground runners;  the benefits of growing this plant make it one that's worth taking a second look at. At this time of year, when many plants have lost their leaves the Gooseneck Loosestrife plant is a focal point in my garden with its leaf colour and seed pods.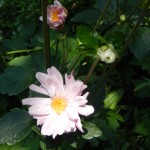 Behind the Gooseneck Loosestrife is a clump of Zebra Grass – Miscanthus sinensis "Zebrinus" which is still showing the green and white horizontal striping which makes this grass easy to identify. The plumes of the grass will provide texture and movement through fall and winter. Autumn Joy Sedum – Sedum spectabilis is another late fall classic perennial.  The deep rose blooms persist until very late in the season. One other favorite is the Fall Blooming Anemone (Windflower), which blooms in pink or white flowers until a hard frost. So do a little research, and look around to see which plants perform well in the garden late in the season. Add these to your residential landscape to increase the show at the end of the year.