Living Around The Pool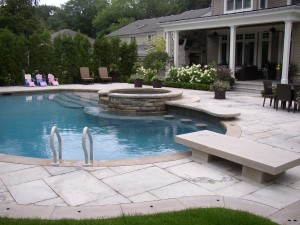 Designing a backyard pool and spa area is an exciting venture for any homeowner. A well-designed and well utilized backyard retreat can sometimes replace the need for a cottage or a weekend residence, by expanding your living space to include the outdoors.  Proper design and creative thinking will allow you to create a space that is used throughout all four seasons.  Determine the type of pool area you want; a tranquil and restful retreat from the stresses of a busy life, or a family recreation center that keeps all the family happy and entertained throughout the long, hot days of summer. You should also decide whether your backyard will have a formal or informal design, as this will help determine the form of your pool and ultimately the style of gardens.
Beautifully designed gardens will help to interpret and add to the theme of your pool.  The design will depend on your personal garden style and the design of the pool.  Gardens around pools on estate or country properties are often inspired by the natural surroundings.  Smaller properties can be designed to create a cozy and relaxing environment with formal or casual designs.  Is your style more classic, minimalist or casual and abundant?
Classical gardens may include Boxwood hedges and mass plantings of a select few varieties of plants.  The garden is usually symmetrical in both design and planting.  Elegant and clean lines and a simple color scheme help to ensure the pool is the focal point of the backyard.
Minimalist gardens are also very elegant.  The planting style in the surrounding gardens is very simple, with mass plantings that create forms to enhance the clean, linear design of the pool. Imagine your pool surrounded by simple planting of ornamental grasses, swaying in the wind; a very peaceful and serene look for an urban retreat.
Many people like a more casual look to their backyard.  A cottage style garden with abundant varieties of plants is a popular garden design and appeals to all the senses with lots of texture, color and fragrance.  If you are a lover of plants and flowers, this is a garden style to consider.  The plantings can be looser in style, and require less maintenance as well.
Once your overall garden style is determined, there are design considerations in the next stage of planning the gardens around your pool: See POOL DESIGN – Part 2