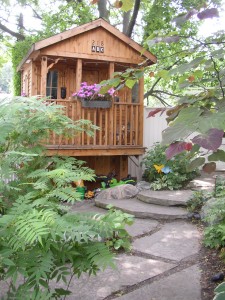 One of the most requested items we are asked to include in a residential  landscape design is a play area for the children in the family.  This area can take many forms; from a  playground set-up, swing set, playhouse or tree fort, a sandbox, a mini stage for 'theatrical productions', etc. Sometimes all it takes to get the kids playing in the backyard is a series of rocks of varying heights, at the edge of the gardens, suitable for climbing on.
Over the years we have created a hard surface track that runs around the perimeter of the yard for tricycle racing, a complete hockey rink scaled down in size, various skating rinks, beach volleyball courts, tree forts that completely blend into the trees, hills and berms for tobogganing, putting greens (oh, I think that one was for the Dad in the family…), fire pits for hotdog and marshmallow roasts, and lots and lots of play structures and sand play areas.
For teenagers, a play area for them often means a pool, hot tub and a deck area for lounging and hanging out with friends. (That always works well for the adults in the family too!)
The possibilities for play are endless, and the results will ensure that the family can spend lots of great time outdoors, without having to leave home.  You may have a larger grocery bill due to the extra kids hanging around your backyard, but that is a small price to pay for the hours of enjoyment everyone will have.